OUR CORNISH CALLING
---
Leonie and I decided to call into to Cornwall and Devon just before Xmas 99. The "West Country" was one part of England we had not visited and by many people's account it is a very lovely part of England. Fortunately we were not disappointed.
We had a few days to spare just prior to Xmas and while we had to wait for the bad weather to finish (there had been floods and icy roads the week leading up to Xmas) we were able to make our way to Plymouth which served as the base from which we operated from to visit various parts of Cornwall and Devon.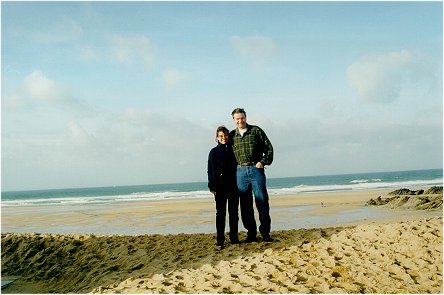 Leonie and Lindsay on the Beach in Newquay
We spent our first night in Plymouth atfer a hard drive down from London in the pouring rain. We were thinking 'hmmm, typical' and were hoping it would clear up for the next day. We went to the cinema and saw "The End of Days". A good Arnie movie, but Leonie didn't like it. It was a little graphic. We then had a lovely meal before retiring for the night.
As you can see from the picture above the weather in the morning was marvellous. Although a little cold, the sun was shining brightly and there was a bright blue sky. Perfect for the beach. Newquay is about the only place in England where there is a decent beach and this is where any surfers come to surf.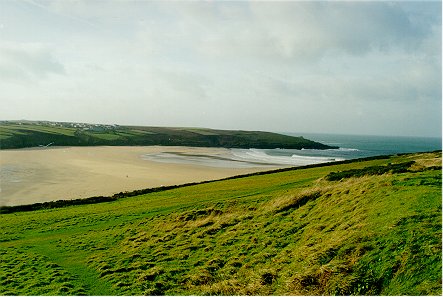 Fistral Beach, Newquay
We then left Newquay and headed on down to St Ives. This is a lovely fishing village known for its artists and art. There is even a branch of the Tate Gallery here in St Ives. We had lunch here and of course had the traditional 'Cornish Pasty'. I gotta say the real thing is much better than the imitations you see around the world, very tasty.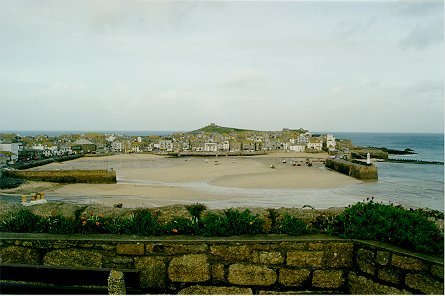 St Ives and the harbour.
As you can see from the picture above, the weather started to change for the worse. It was coming over grey and cloudy and started getting very windy. We were now heading for Lands End.