OUR CORNISH CALLING

Cont'd...
---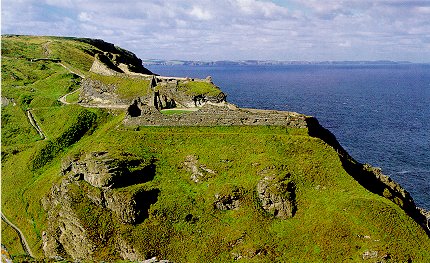 Castle ruins, the supposed birth place of King Arthur
The next day we headed north to Tintagel. It is said that the castle ruins are the birth place of King Arthur of Arthurian Legend. As it was the day before Xmas it was closed but we did walk down and around some of the ruins as there is no gate to prevent you from doing so. It was a Xmas freebie. Although Leonie wouldn't let me jump the gate on the bridge which led to more ruins on the bluff.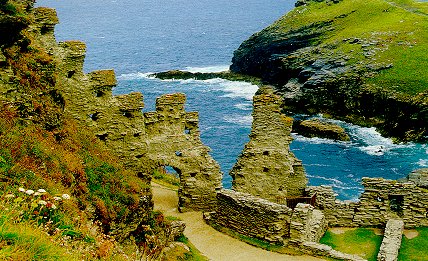 More castle ruins
From Tintagel we then headed onto Clovelly. This was a really lovely fishing village and people near here, until early in the 20th century, practiced 'wrecking'. This involves deliberately leading ships astray in the night via false lights etc to wreck themselves on the rocks. Of course the wreckers then helped themselves to the cargo found on the rocks.
Smuggling was also a known pastime of people in the area. Clovelly while not known for this is a very picturesque and quanit village. You cannot drive into the village. Locals to this day drag goods up and down on sleds or donkeys. We saw this happening as we were leaving. Two guys hauling alcohol down to the village. The weather had closed in by now and we had a nice cup of tea in the local pub before going further down to the harbour to look further around.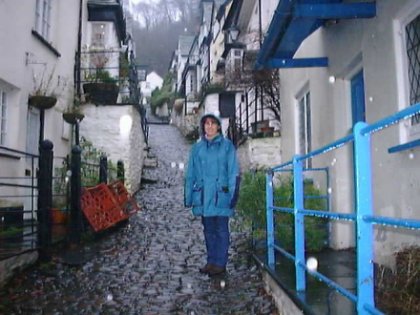 Leonie in the High Street of Clovelly
Clovelly is supposedly the most photographed village in all of England. From the picture below you can see why. Although it was raining and it was the day before Xmas, we didn't have to worry about tourists. I think there were only about 4 other people in the entire village who were not locals. All the kids were running around in the rain and thought it was great.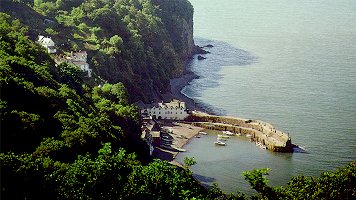 Clovelly
Well it was time to start to head back to London as we still hadn't done our Xmas food shopping. We stopped at local Tesco in Devon. It was a good thing we went when we did as it was nearly empty of food. We then did the long haul back to London via the Dartmoor National park with our Xmas groceries in the boot.
While in Devon and Cornwall we also got to go through the Bodmin Moors famous for the Bodmin Moor monster/cat/???. It is very lovely country in the 'West Country'. Very much like picture post card England. Green rolling hills and valleys with fields surrounded by stone fences and hedge rows. We had a great time and are glad we took the time to visit this lovely area of Enland.
For some further pictures and images see the Picture Gallery #4.