Cont'd
---
We then headed for Cork and had a quick lunch in Cork and did some shopping for socks of all things. I had forgotten my hiking socks.
From there we just had to go to Blarney Castle and the famous Blarney Stone. We kissed the stone for the gift of eloquent and persuasive speech. (I got a feeling it didn't work for me). The castle itself is quite a fortress and the views of the countryside from the top are superb.
It was now time to head to Killarney. We wanted to drive around the "Ring of Kerry" the next day so Killarney was the perfect place to stop for the evening.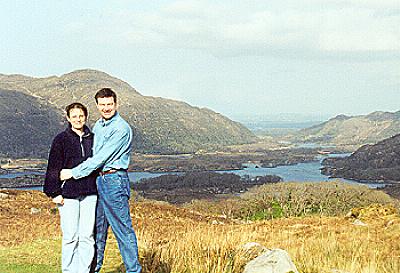 Leonie & I @ the Ladies View on the "Ring of Kerry"
We had a lovely romantic dinner in Killarney before retiring for the evening.
The next day was spent driving around the Ring of Kerry. We went anti-clockwise from Killarney down to Cahersiveen. There is some truly lovely coastline here and the changes in the view can be very different from one hour to the next.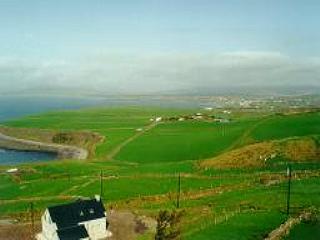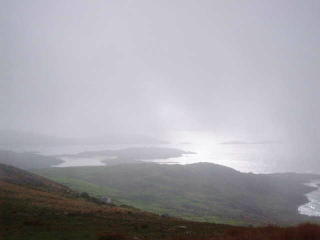 Kerry Coast near Kells Then a short while later in Cahersiveen
We went to Derrynane House the home of Daniel O'Connel who managed to gain some Catholic emancipation in 1829. We walked around the lovely gardens. Very peaceful!
From there we went back up into the mountains to the Ladies View for spectacular views of Gap of Dunloe and Macgillyscuddy Reek. We didn't have the time to hike into the Gap Of Dunloe, but will include this on our next visit.
Back | Forward