Cont'd
---
From the Ladies View we went onto Kenmare for lunch, stopping along the way at the Staigue Fort. This fort is thought to have been built in 1000BC. (They don't build them like they used to.) It was a little off the beaten track but worth the visit and not another soul in the place.
We had lunch in Kenmare, another pub and more Guinness (did I mention I was enjoying the Guinness?)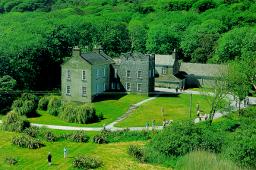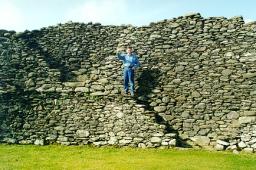 Derrynane House Lindsay @ the Staigue Fort
We thought to pass back through Killarney and go to the Dingle Peninsula and to see some of the beaches. We did get to the beach and we got as far as Inch down the peninsula. The beaches and coastline on the Dingle peninsula are very scenic. You could just sit there and watch it for hours. Lots of sandy beaches and some great surf.
Then the weather decided to close in. So we headed across the peninsula and up through Tralee before going onto Limerick where we spent the night.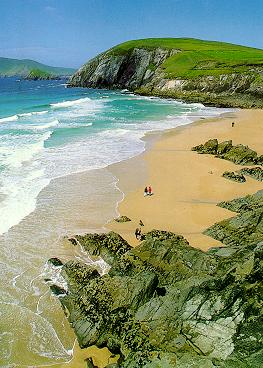 A beach on the Dingle Peninsula
I have to say Limerick was a bit of downer on the road trip. We couldn't find much to recommend about it. I think by stage we were used to smaller towns and villages and Limerick was a just another city. (The weather could have also affected our judgement as it rained all evening and night.)
Back | Forward