Cont'd
---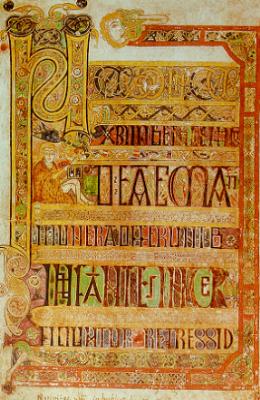 A page from the Book of Kells
We took in Dublin Castle and St Patrick's Castle. We also spent time in St Stephen's Green. We passed the birth place of George Bernard Shaw not far from St Stephen's Green. We didn't have the time to a literary tour but this is something I would like to go back and do.
It was time to head back to Rosslare and Wexford for our ferry trip back to Wales. This was going to be a very long day for me. The ferry wasn't due to arrive into Fishguard until 1am.
We had dinner in a lovely little pub in Wexford before leaving. But we got a little lost getting out of Wexford and nearly missed the ferry. I think we were the last car onto the ferry before it departed. We then had to spend 4 hours driving through Wales to get home for me to go to work that morning. It was very difficult as there was a very very heavy fog for 90% of the journey home. It wasn't until we were nearing Windsor on the M4 that it started getting clearer. This is not a drive I would want to repeat.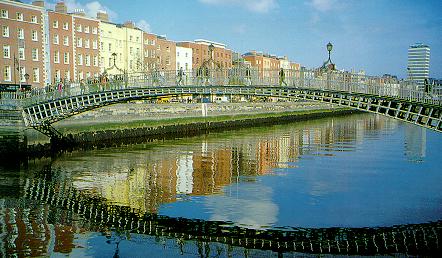 Ha Penny Bridge over the Liffey river
St Patricks Cathedral
It was such a shame to leave Ireland. It was only 2 days before St Patricks Day and it would've been great fun to stay in Ireland to celebrate with the locals. But we were out of time. With our impending move to the US we had to get home and start organising our departure from the UK. There are more photo's from our visit in our Picture Gallery Page 5.
But it is one of the places for us that is a must "visit again" as there was so much we missed and so much we liked we'd do it again, just "to be sure to be sure"!!
Back